Liquid Vitamin D3 provides 5000 IUs of Vitamin D to help support bones health, immune function, hormonal balance, and more. Vitamin D helps the gut absorb calcium while stimulating bone mineralization. Many chronic diseases are associated with low vitamin D levels and with the average person well below the recommended Vitamin D levels it is now commonly recommended that most people take vitamin D to support their overall health.
Great tasting
Contains D3 /Cholecalciferol, the best form of Vitamin D3
Rapid-Sorb Enhance Absorption
Contains no added yeast, starch, wheat, soy, gluten, eggs, salt, or dairy, Non-GMO
Filtered Water, Vegetable Glycerin, Crystalline Fructose, Citric Acid, Blended Natural Flavors and/or Concentrated Juice Extracts, Potassium Sorbate (To Preserve Freshness), Lo Han Guo Extract, Xanthan Gum, and Grapefruit Seed Extract (To Preserve Freshness).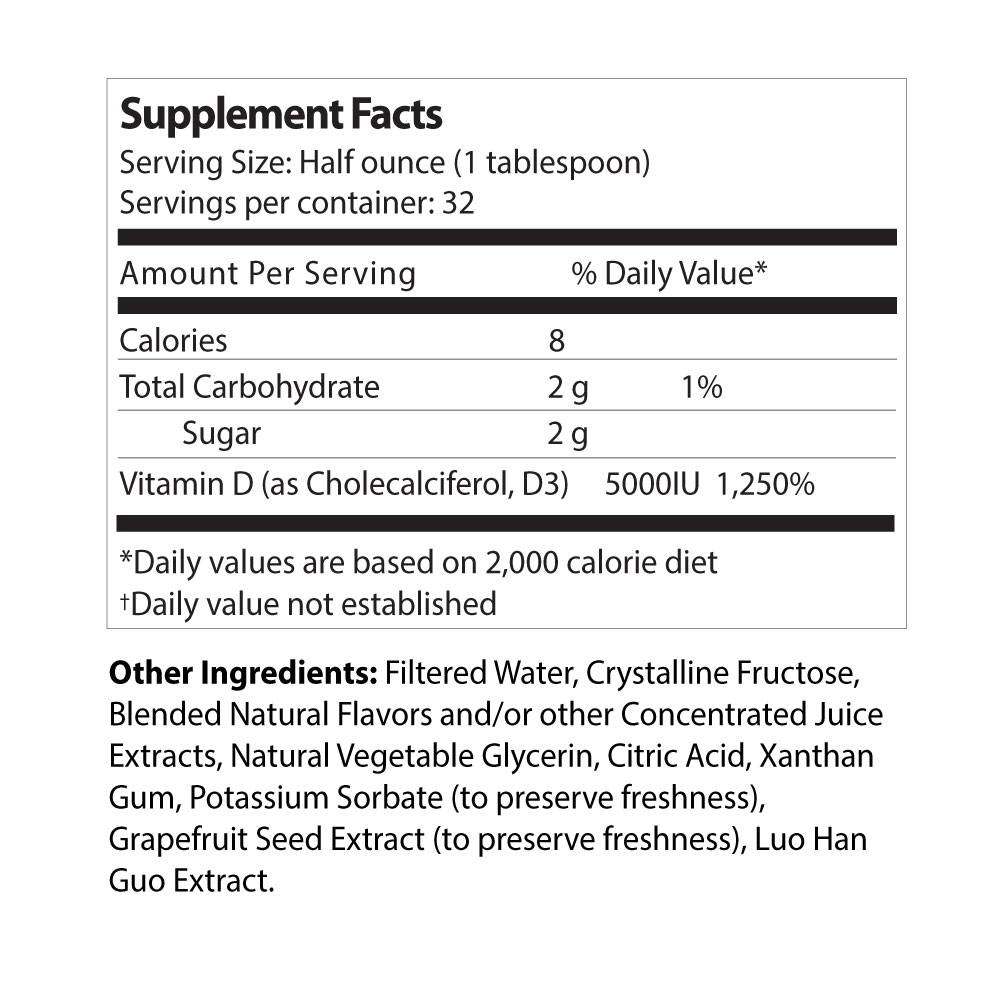 Cholecalciferol/Vitamin D3
The skin, which is the body's largest organ, produces and stores the highest concentrations of vitamin D precursor molecules (7-dihydroxy-cholecalciferol) in the body. It is this precursor molecule that needs UV light stimulation to begin the process of conversion to activated vitamin D (25-hydroxy-cholecalciferol), which the body uses for various functions that includes serum calcium and phosphorus regulation which plays a huge factor for bone health and development, immune function, heart function, muscular function, and enzyme production such as insulin. Many genes encoding proteins that regulate cell proliferation, differentiation, and apoptosis are modulated in part by vitamin D giving it the possible application in cancer treatment regiments.