Glucosamine 1500 Chondroitin
Glucosamine 1500 - Chondroitin MSM Forte is a unique formula designed to support joint function, joint mobility, and healthy cartilage. Double strength Glucosamine and Chondroitin Sulfate provide the body with the proper building blocks to synthesize hyaluronic acid and glycans, both major components of connective tissue, which directly supports joint health. MSM and grape seed extract provide additional anti-inflammatory and antioxidant qualities to soothe joints and decrease pain.
*1500mg Glucosamine.
*Rapid-Sorb Enhanced Absorption.
*Supports healthy joint cartilage.
Contains no yeast, starch, wheat, soy, gluten, eggs, salt, or dairy: Non-GMO
Filtered Water, Vegetable Glycerin, Crystalline Fructose, Citric Acid, Blended Natural Flavors and/or Concentrated Juice Extracts, Potassium Sorbate (To Preserve Freshness), Lo Han Guo Extract, Xanthan Gum, and Grapefruit Seed Extract (To Preserve Freshness).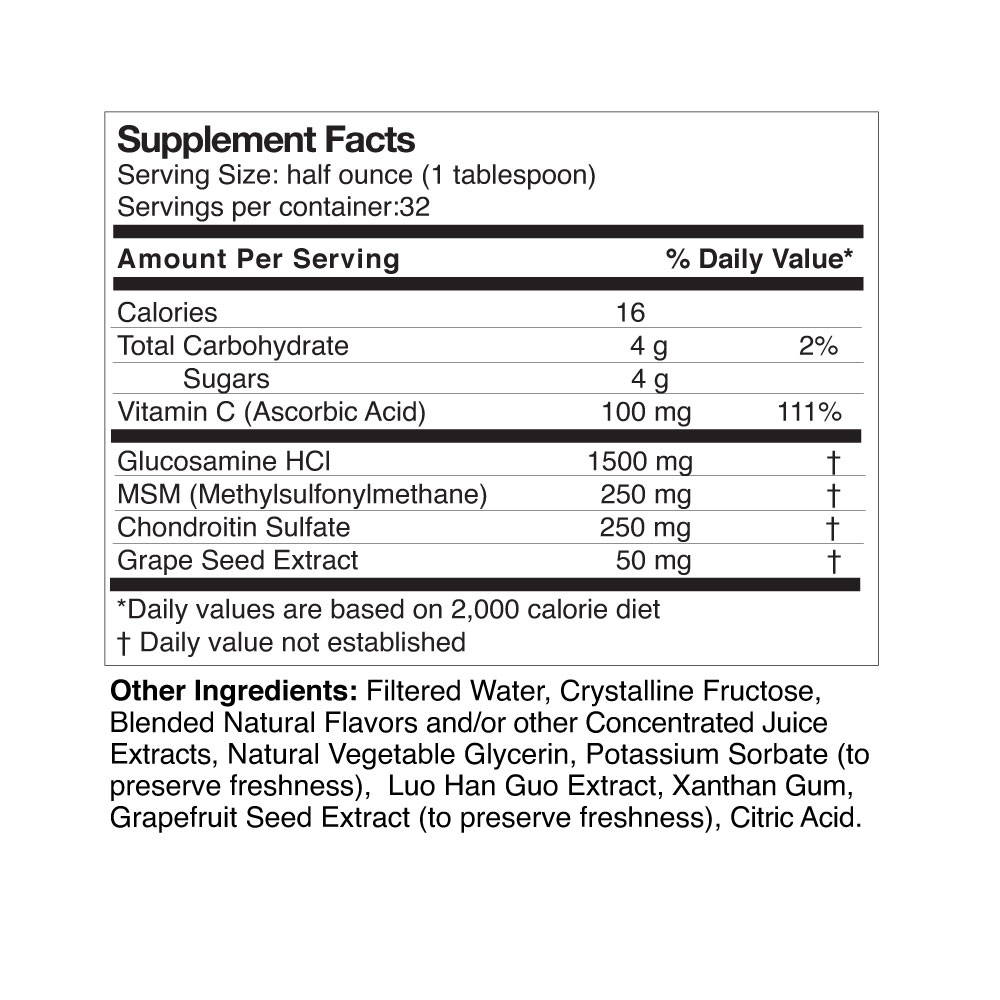 Glucosamine is an amino sugar that is produced naturally in humans and is typically supplemented to help rebuild cartilage and lower inflammation throughout the major joints of the body. It also plays a role in cholesterol metabolism and heart health.
Chondroitin sulfate is a chemical that is normally found in cartilage around joints in the body. Supplementing chondroitin with glucosamine provide the essential building blocks for healthy cartilage formation.
Vitamin C (ascorbic acid) is a water-soluble vitamin, which is needed by the body to form collagen in bones, cartilage, muscle, and blood vessels as well as neurotransmitters, proteins, and acts as a potent antioxidant.
MSM is an organic sulfur containing compound that has been attributed to pain relief and healthy joint function due to various anti-inflammatory mechanisms.
Literally made from grape seeds, this extract is rich in antioxidants and anthocyanidins which have been directly links to heart health, joint health, and reducing inflammation throughout the whole body.