Children's Super MultiVitamin
Children's Super MultiVitamins and Minerals has been professionally formulated to be safe and supportive for the natural growth and development of children. This great tasting, kid friendly supplement goes well beyond your average multivitamin and mineral formula by including a natural blend of berries known for their antioxidant potential as well as whole fruit & vegetable complexes. Enjoy the best nature and science have to offer while providing your child the building blocks for a long and healthy life.
*Rapid-Sorb enhanced absorption.
Contains no yeast, starch, wheat, soy, gluten, eggs, salt, or dairy: NON-GMO
Filtered Water, Vegetable Glycerin, Crystalline Fructose, Citric Acid, Blended Natural Flavors and/or Concentrated Juice Extracts, Potassium Sorbate (To Preserve Freshness), Lo Han Guo Extract, Xanthan Gum, and Grapefruit Seed Extract (To Preserve Freshness).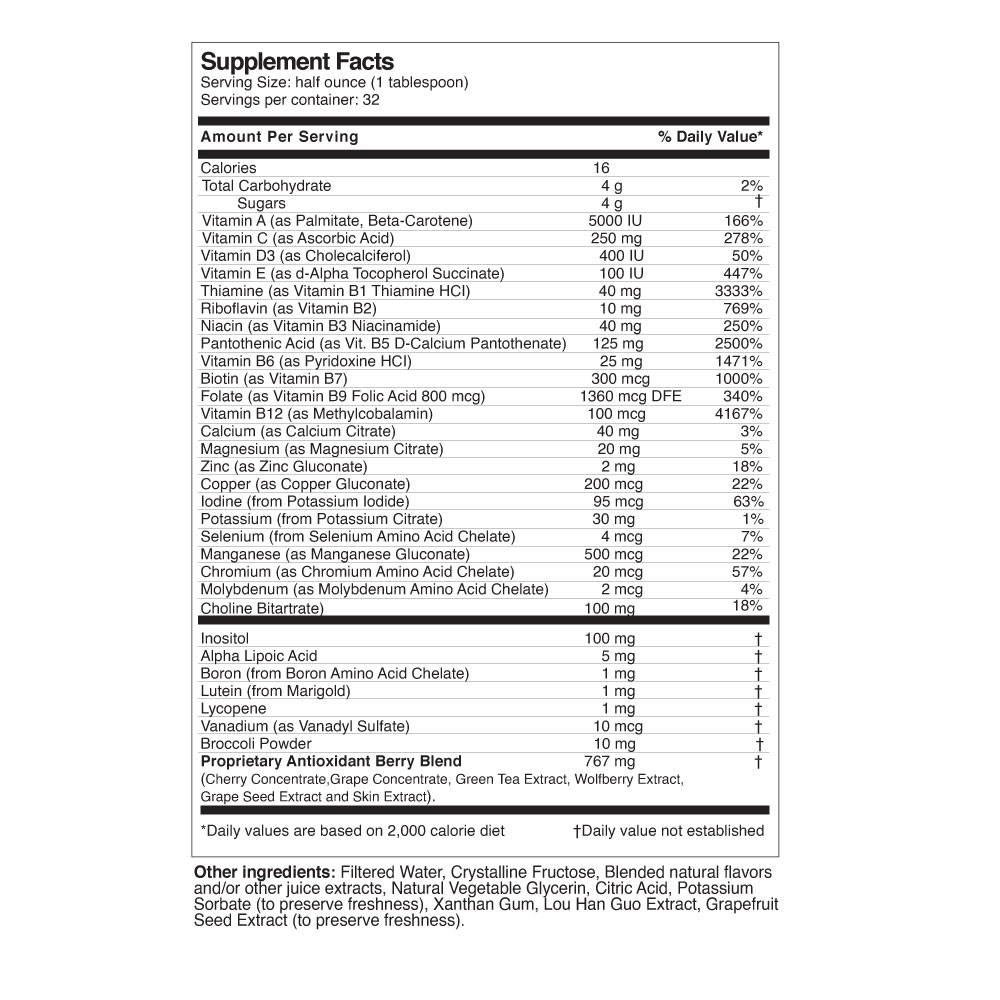 Vitamin A, otherwise known as retinoic acid/retinol, usually comes from animal food sources, but the human body can also make it from some compounds found in plant foods, called carotenoids.
Carotenoids and dietary retinol are converted in the body to all-trans retinoic acid by an unknown mechanism. All-trans retinoic acid is the active form of vitamin A in almost all biological processes. Retinoic acid regulates the expression of various genes that encode for structural proteins, such as keratins in the skin; enzymes, such as alcohol dehydrogenase; extracellular matrix proteins, such as the basement membrane protein laminin; and retinol binding proteins and receptors. This allows vitamin A to regulate the nervous system, metabolism, and hormones throughout the entire body
Vitamin C (ascorbic acid) is a water-soluble vitamin, which is needed by the body to form collagen in bones, cartilage, muscle, and blood vessels as well as neurotransmitters, proteins, and acts as a potent antioxidant.
The skin, which is the body's largest organ, produces and stores the highest concentrations of vitamin D precursor molecules (7-dihydroxy-cholecalciferol) in the body. It is this precursor molecule that needs UV light stimulation to begin the process of conversion to activated vitamin D (25-hydroxy-cholecalciferol), which the body uses for various functions that includes serum calcium and phosphorus regulation which plays a huge factor for bone health and development, immune function, heart function, muscular function, and enzyme production such as insulin. Many genes encoding proteins that regulate cell proliferation, differentiation, and apoptosis are modulated in part by vitamin D giving it the possible application in cancer treatment regiments.
Vitamin E is the collective name for a group of fat soluble compounds with distinct antioxidant activity. There are eight chemical forms, with alpha-tocopherol being the only one that meets human needs or requirements. It is released by the liver into the bloodstream where it acts as a potent antioxidant, preventing cellular damage of free radicals and toxins in the body that are byproducts of metabolic function. It has the ability to suppress inflammatory enzyme production, thin the blood , and relax blood vessels making it absolutely essential for heart health. Recommended daily intake is about 15 mg and is found readily in sunflower seeds, almonds, spinach, broccoli, and kiwis.
Thiamin (also called vitamin B1) helps turn the food you eat into the energy you need. Thiamin is important for the growth, development, and function of the cells in your body. Thiamine is not made endogenously in humans, therefore it needs to be consumed in the diet or taken as a supplement.
Riboflavin is a water soluble B vitamin (vitamin B2) which is involved in vital metabolic processes in the body and necessary for normal cell function, growth, and energy production.
Vitamin B5 (Pantothenic acid)
Vitamin B6 (Pyridoxine HCL)
Vitamin B6 in coenzyme forms performs a wide variety of functions in the body and is extremely versatile, involved in greater than 100 enzyme reactions in the body and involved in protein metabolism. Vitamin B6 is also involved in brain development during pregnancy and infancy as well as immune function.
Biotin is a B-vitamin found in many foods. Biotin helps turn the carbohydrates, fats, and proteins in the food you eat into the energy you need. It plays an important role in skin, hair, and nail health which keeps them looking healthy and vibrant.
Vitamin B12 (Methylcobalamin)
Vitamin B12 is a nutrient that helps keep the body's nerve and blood cells healthy and helps make DNA, the genetic material in all cells. Vitamin B12 also helps prevent a type of anemia called megaloblastic anemia that makes people tired and weak.
The body needs folic acid (B9) to make DNA and other genetic material. Your body also needs folate for your cells to divide, keeping red blood cells fresh and healthy allowing the body to work at the utmost efficiency.
Calcium is the most abundant mineral in the human body and has several important functions. More than 99 percent of total body calcium is stored in the bones and teeth where it supports the structure. The remaining one percent is found throughout the body in blood, muscle and the intracellular fluid. Calcium is needed for muscle contraction, blood vessel constriction and relaxation, the secretion of hormones and enzymes and nervous system signaling. A constant level of calcium is maintained in body fluid and tissues so that these vital body processes function efficiently.
Involved in more than 500 enzyme reactions, protein synthesis, muscle function, nerve function, blood sugar control, and blood pressure control. Deficiency causes loss of appetite, fatigue, weakness, nausea, vomiting, numbness, tingling, muscle cramps, seizures, personality changes, and abnormal heart rhythms. Magnesium is most abundantly found in vegetables such as spinach, black beans, avocados, almonds, and swiss chard with a recommended daily intake of around 300-400 mg.
Iodine is an essential mineral commonly found in sea weed, sea food, and sea salt. Iodine is primarily stored and utilized in the thyroid gland were it helps convert precursors and compounds into active and inactive forms of thyroid hormone. Without it, our body would now have proper levels of thyroid to regulate metabolism, energy, mood, and overall organ health.
Zinc is necessary for the functioning of more than 300 different enzymes and plays a vital role in a large number of biological processes. Zinc is a cofactor for the antioxidant enzyme superoxide dismutase (SOD) and is in a number of enzymatic reactions involved in carbohydrate and protein metabolism. Zinc is a magnificent mineral that has to be constantly consumed as it is not stored regularly in the body Regulates transcription (growth), cell replication, bone formation, skin integrity, cellular immunity, carbohydrate metabolism, and helps us smell and taste. Animal meats have higher bioavailability. Plant based sources may have phytates which inhibit absorption (whole grains and beans). Not readily stored but is found in all organs, especially the liver, kidneys, muscle, skin, and bones as part of the matrix.
Copper is a well known trace mineral, that actually has some important benefits for the body. It binds together with irons to form healthy bloods cells while also maintaining healthy bones, blood vessels, and immune function. Found in organ meats, shellfish, nuts, seeds, and dried fruits.
Manganese is a mineral that your body needs to stay healthy. Your body uses manganese to make energy and protect your cells from damage. Your body also needs manganese for strong bones, reproduction, blood clotting, and a healthy immune system.
Chromium is a trace mineral that is essential for blood glucose control and insulin function. It binds to insulin receptors and increases their sensitivity and is found in grains, meats, fruits, vegetables, and nuts.
Molybdenum is another trace mineral used by the body to properly process proteins and amino acids to from healthy DNA. Furthermore it is involved in our detox pathways and helps the body clear out drugs and other toxic substances. Typical sources include legumes, whole grains, dairy, and meats.
Potassium, the most abundant intracellular cation, is an essential nutrient that is naturally present in many foods and available as a dietary supplement. Potassium is present in all body tissues and is required for normal cell function because of its role in maintaining intracellular fluid volume and transmembrane electrochemical gradients. Potassium has a strong relationship with sodium, the main regulator of extracellular fluid volume, including plasma volume.
Inositol is nutrient sometimes referred to as vitamin B8 and naturally occurs in foods such as fruits, beans, grains, and nuts. It is actually a type of sugar and can be produced in the body with the use of dietary carbohydrates. It plays a structural role in the integrity of cell membranes and affects the actions of insulin, serotonin, and dopamine in the body. This means it may help regulate blood sugar levels and improve mood over time.
Another trace mineral that plays a role in metabolic function and blood sugar control. It also seems to have further functions in regards to anemia, atheletic performance, heart disease and more although its role in mammals has not been significantly explored.