This is a Melatonin and 5-HTP Supplement. This formula is specifically tailored to enhance the body's circadian (sleep/wake cycle) rhythm through melatonin's naturally occurring actions, further supported by 5-HT, a serotonin precursor, and its relaxing feel-good qualities. Both melatonin and 5-HTP are neurotransmitters produced in the brain that play important roles in the regulation of many of the body's functions. Many individuals today have altered levels of neurotransmitters due to various reasons, supporting them naturally allows the body to fall in to rest and relax with ease.
Rapid-Sorb Enhanced Absorption
Contains no yeast, starch, wheat, soy, gluten, eggs, salt or dairy Non-GMO
Filtered Water, Vegetable Glycerin, Crystalline Fructose, Citric Acid, Blended Natural Flavors and/or Concentrated Juice Extracts, Potassium Sorbate (To Preserve Freshness), Lo Han Guo Extract, Xanthan Gum, and Grapefruit Seed Extract (To Preserve Freshness).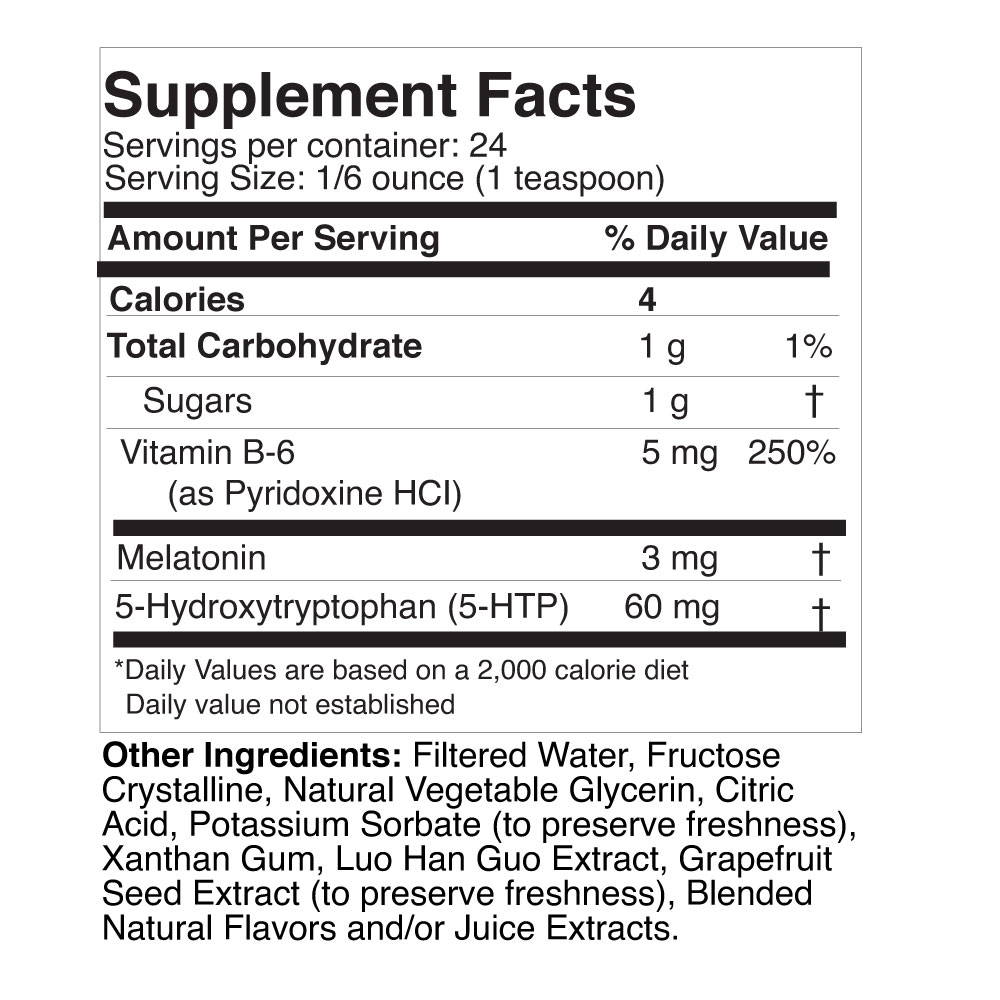 Pyridoxal-5-phopshate/Vitamin B6
Vitamin B6 in coenzyme forms performs a wide variety of functions in the body and is extremely versatile, involved in greater than 100 enzyme reactions in the body and involved in protein metabolism. Vitamin B6 is also involved in brain development during pregnancy and infancy as well as immune function.
Melatonin is a naturally occurring hormone that is created in the body in response to darkness. This in direct counteraction to cortisol which is released in response to light. Melatonin signals to the body that it is time to go to sleep and begins to power down the cycles that keep us active and engaged during the day.
5-HTP is a precursor to serotonin, our feel-good hormone, and is converted in the brain to its active form with the help of vitamin B6. Serotonin also helps us release tension and create a sense of ease or calm that is hard to find in the hectic modern world.