Our Calcium-Magnesium Formula provides essential minerals to the body, in a highly absorbable form, that are essential to every cellular function. Magnesium is involved in over 500 biochemical reactions in the body, and much like other minerals it supports hormone balance, cellular health, muscle contractions, antioxidant status, and immune function. Calcium and additional minerals such as zinc, manganese, and boron all provide additional immune, cellular, bone, and muscle support for overall wellbeing and health.
Filtered Water, Vegetable Glycerin, Crystalline Fructose, Citric Acid, Blended Natural Flavors and/or Concentrated Juice Extracts, Potassium Sorbate (To Preserve Freshness), Lo Han Guo Extract, Xanthan Gum, and Grapefruit Seed Extract (To Preserve Freshness).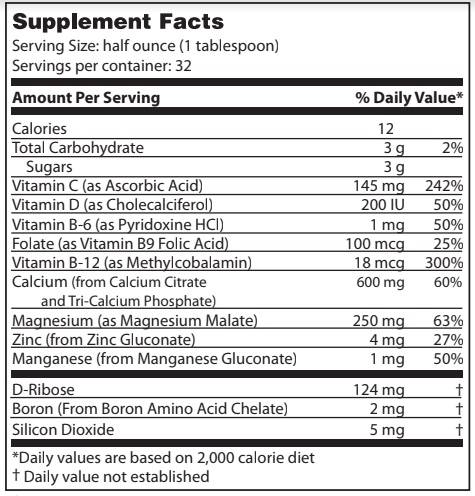 Calcium is the most abundant mineral in the human body and has several important functions. More than 99 percent of total body calcium is stored in the bones and teeth where it supports the structure. The remaining one percent is found throughout the body in blood, muscle and the intracellular fluid. Calcium is needed for muscle contraction, blood vessel constriction and relaxation, the secretion of hormones and enzymes and nervous system signaling. A constant level of calcium is maintained in body fluid and tissues so that these vital body processes function efficiently.
Involved in more than 500 enzyme reactions, protein synthesis, muscle function, nerve function, blood sugar control, and blood pressure control. Deficiency causes loss of appetite, fatigue, weakness, nausea, vomiting, numbness, tingling, muscle cramps, seizures, personality changes, and abnormal heart rhythms. Magnesium is most abundantly found in vegetables such as spinach, black beans, avocados, almonds, and swiss chard with a recommended daily intake of around 300-400 mg.